Mindful Chef Panang Chicken Curry with Black Rice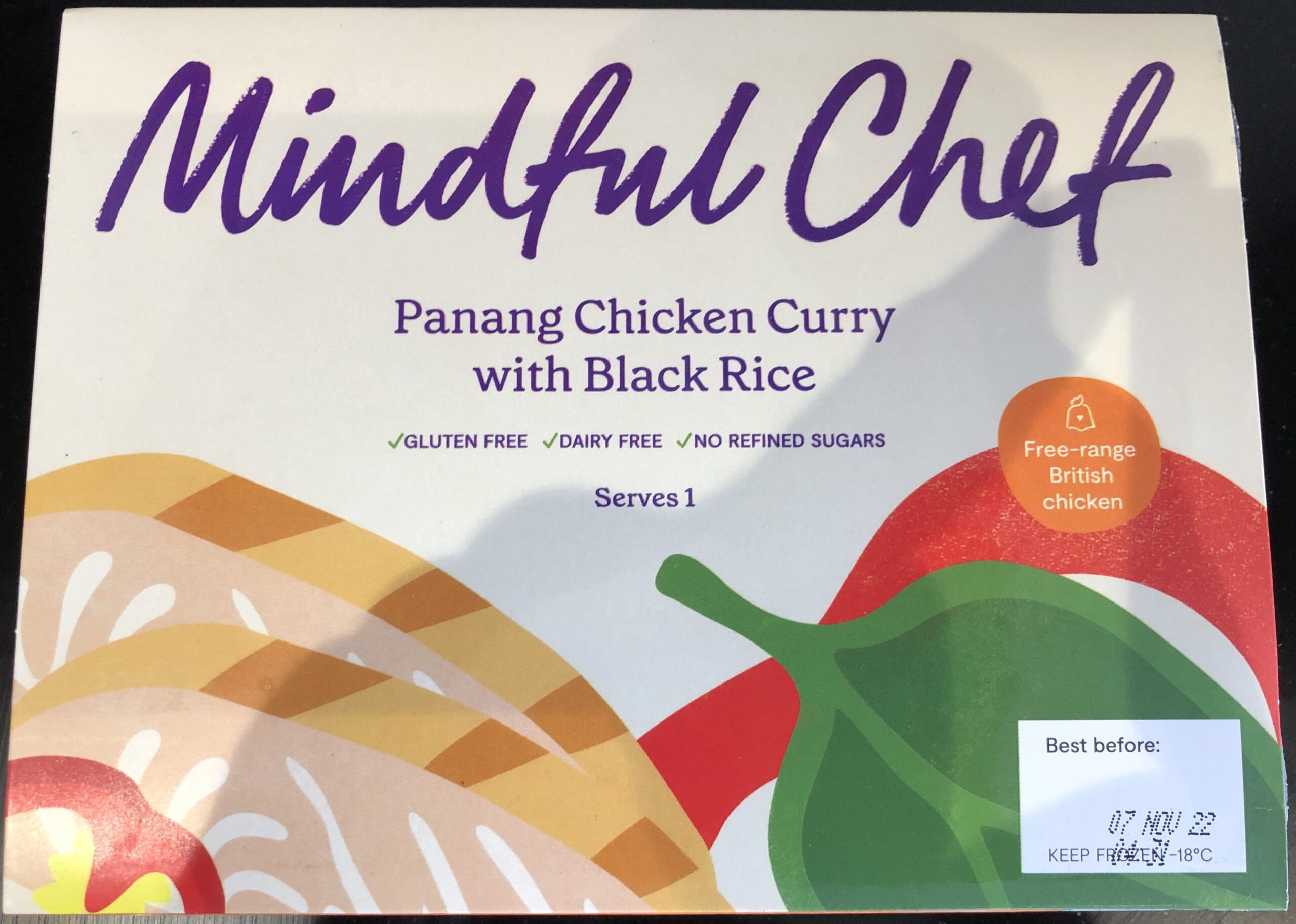 It's been far too long since I last posted a review. After all this time, what could have broken the deadlock? What meal was so interesting/controversial that I just had to try it, capture it, write about it?
This one. Ladies and gentlemen, you are looking at a frozen ready meal for 1, at a grand price of: £4.95 RRP.
I've never come across a ready meal so expensive – maybe prices have just shot up since I last published a review? – so this caught me eye and I just had to try it. Though let's not forget: Mindful Chef is one of those up-market 'meal kit' delivery companies, so it's pretty cool we can even get their stuff in the supermarkets.
First impressions: nice and simple. 9 minutes in the microwave.
Those who know me know I look out for good packaging where the film peels away easily and there is minimal wastage. Top marks for that here.
There's also the intriguing line on the packaging: "tray colours vary as they're made from a mix of easily recycled plastics". So again, good green credentials from Mindful Chef here.
Now to the important bit – the food.
The black rice looks a little daunting, but is healthy, nicely seasnoed, and satisfyingly chewy. The curry sauce packs a chilli kick, with a strong coriander aftertaste. It's good, but a smidgen too bland; it could use a pinch of salt.
There are plenty of generous chunks of free range chicken, but I was disappointed that the meat is quite dry.
Finally, I cast a look at the packaging to gauge an idea of how healthy this is. Normally it's a bit of a minefield to look at the ingredients list on a ready meal, but I recognise all of these. It does seem genuinely natural and preservative-free. It clocks in at just 460 calories, which I guess is a positive, but I did still feel a bit peckish at the end of it.
I can't justify giving 5* to something so pricey and relatively small. But I did enjoy this, and can happily give 4* for the health, eco, simplicity and taste.